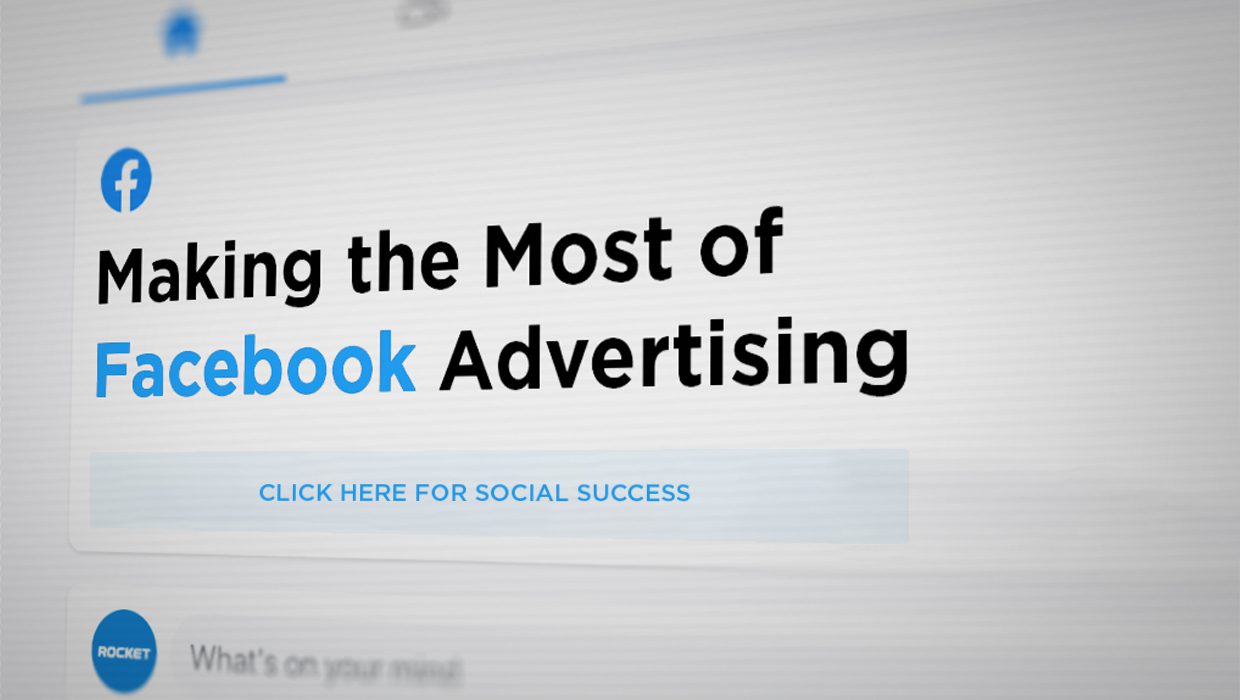 Nothing Left to Chance with our Guide to Effective Facebook Advertising
As a result of the recent switch to remote culture, brands are continuing to adjust their marketing strategies. The physical experience has become virtual with online traffic now outweighing customer footfall.
As a digital agency, we've seen a subsequent boost in social media advertising with Facebook rising as the strongest contender. It makes sense too. It's a cost-effective solution, directly customer-facing whilst offering tailored targeting.
Be sure that it's your intended communication platform. If you're looking for strong interpersonal B2B outreach, explore a social channel like LinkedIn.
Where Facebook falters is its reliance on the manual inputting and creation of an advert. When in the wrong hands, an advert can have little to no success when set up incorrectly.
We're completely results-driven at Rocket and have therefore put this handy guide together so you can see an uplift in your marketing goals, traffic and sales.
Choosing the Correct Campaign Objective
On one hand, Facebook offers the ability to customise your campaign with a number of potential campaign objectives. On the other hand, the sheer number of options is overwhelming to a social novice.
From increasing your Brand Awareness and Reach, to driving online Traffic or Video Views. Facebook does a nifty job of explaining each goal so you can assess what's best for you.
If you're looking to start a point of discussion, try Brand Awareness. If you're seeking a sales spike, a Conversion Ad is an effective way to measure purchases. With the latter, activate a Facebook Pixel so you can accurately measure your cost per result and edit your advert accordingly.
Trying and Testing your Audience
It's easy to target as many people as possible in the hopes of generating the largest reach, but if there are no sales, you have a fruitless Facebook ad on your hands.
Assess whether you want to target nationally, or locally using a realistic driving time and an appropriate number of kilometres away. Target people based on their interests and purchasing behaviour, no matter how niche.
Lookalike Audiences are your true Facebook friend here. Facebook subsequently builds you a target audience based on those who like your page and who are actually buying from your website.
Take advantage of A/B testing and vary your audiences to work out the superior performer via Facebook's analytics.
Using Impactful Creative
Amongst a feed of endless scrollable content, your ad creative needs a reason to stand out.
A single image advert needs vibrant colour and quality product photography. A video advert must captivate audiences within those crucial first few seconds. This is along with dynamic messaging and seamless editing. Your offer must have value and encourage conversation and shares.
Rocket is no stranger to strong design for purpose, so why not task us with your next creative?
——————————————————-
For lucrative lead opportunities, an inundation of online impressions and an enviable cost per result, call us on 01604 250 900 to see your social stats soar.
Words: Joe Hopkins