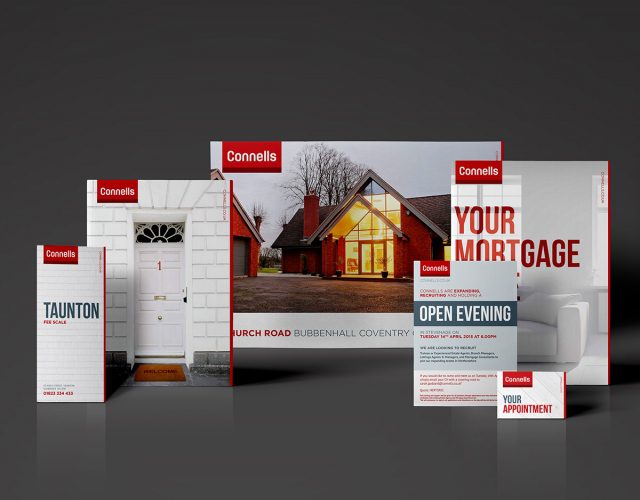 Rocket Launches Connells Residential New Look
Rocket Creative has helped launch a Connells Residential revamp creating the corporate new look recently rolled out across the UK.
Connells Residential, one of the UK's largest and most successful estate agencies, is making all the right moves in the housing market by unveiling a major updated look.
The Northampton-based creative agency Rocket was chosen as the innovative brains behind the refreshed look for Connells Residential.
A new logo was just part of Rocket's revitalised look for Connells Residential. The aim was to give the business a fresher, contemporary look whilst incorporating the integrity of the brand's heritage.
In a bid to inject some energy into the new look, Rocket recreated a re-energised logo with contemporary font, new captivating, colour palette and design details which is featured online across Connells' website, social media and portals including Rightmove and Zoopla.
Opening the door to attracting new customers was another key feature. This update resulted in, eye catching 'For Sale' / 'To Let' boards. The exteriors of Connells' extensive network of nearly 160 nationwide branches also received the Rocket re-touch ensuring they stand out on any crowed high street. The interiors were re-worked in stylish shades of red, white and grey.
Connells Marketing Manger, Liz Kenny, said: "We have a great relationship with Rocket and chose them to be the creative driving force behind the brand refresh. "Their excellent ideas and expertise were in line with our objectives and outlook and the Rocket team knew exactly what we were looking for."
David Plumtree, Connells Group Estate Agency Chief Executive, said:
"A new look for Connells signals an exciting future for the company. Our identity was in need of a little updating and this revised look is more contemporary yet still retains our heritage colours and everything that is familiar and trusted with the brand."
"We will be celebrating our 80th anniversary of trading in 2016. With this fresh new look we will send out a message to the industry that we're a forward thinking company, constantly evolving and growing in a changing market place."
Neil Thompson, Managing Director Rocket Creative, said:
"This was a big project for us however I knew we had the ideas, the talent and the attention to detail to pull it off. It is a project that we are immensely proud of and for a small agency like Rocket to take on and win a nationwide revamp really is an accolade in itself."