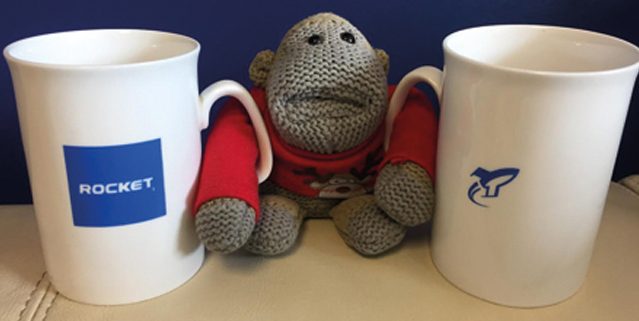 WHY I LAUNCHED MY CAREER AT ROCKET
Last weekend I waved goodbye to my friends as they set off to start a new chapter of their lives at university. Whilst I wish them the absolute best of luck, I do not regret not joining them on their journey. Instead of university I took the more hands on approach of going into a career full-time work. I am currently completing my level 3 social media apprenticeship at Rocket Creative and I'm loving every single second.
I wouldn't call myself a perfectionist but I HATE getting things wrong. So much so to the point where I will flat out refuse to do something if I know I'm not going to get it right. The night before my first day I had a melt down. I was so convinced I wouldn't be able to handle the fast pace, independent nature of an apprenticeship and I was scared that I would just get everything wrong. I was so close to giving up before I had even tried. When I arrived on my first day everyone was so warm and welcoming. It didn't take long for me to realise everyone here is just as crazy as I am.
After finishing my A levels, I was really stuck on what to do next. The majority of my friends decided to go to university and the others were already in full-time work. I knew I wanted to work in media and marketing but didn't really fancy getting myself into a life time of debt. It was suggested to me that I looked into apprenticeships. I had never really considered one until then as I always believed it was more for the 'less competent'. But, how wrong was I! Barclays and the centre for Economics and Business recently published new research. It suggests apprentices in media and publishing are likely to outperform their graduate counterparts by 270%. So much for the incompetent. I have always been a very money orientated person and it's no taboo subject that apprenticeships get paid peanuts but at least I'm being paid to learn instead of paying to learn. It's not only these fields that are expected to earn more than university graduates.
A study released from www.notgoingtouni.com stated that apprentices are likely to earn on average £3,729 more per year than graduates in their first job. The Government are committed to driving up the number of young people earning whilst learning to 3 million by 2020. If the people who run our country are in favour of 16 – 24 year olds making more money. Surely, that should give you a clear indication that it isn't the easiest but a more beneficial way round.
I've only been at Rocket for a week but it's honestly been one of the best weeks of my life. I have done more for my career in this one week than I ever did in 12 years of education. Every day I'm forced to step out of my comfort zone without having someone there to hold my hand. School and the working world are two very different places. To jump from one to another can be quite daunting but through a scheme like this you can learn the trades of the working world. As well as learning the ways of your employer (as most employees stay on at the company they completed their apprenticeships at) as well as earning a qualification, on top of being in paid employment and gaining experience. Earning while you learn, what are you waiting for?
Anne-Marie Stott