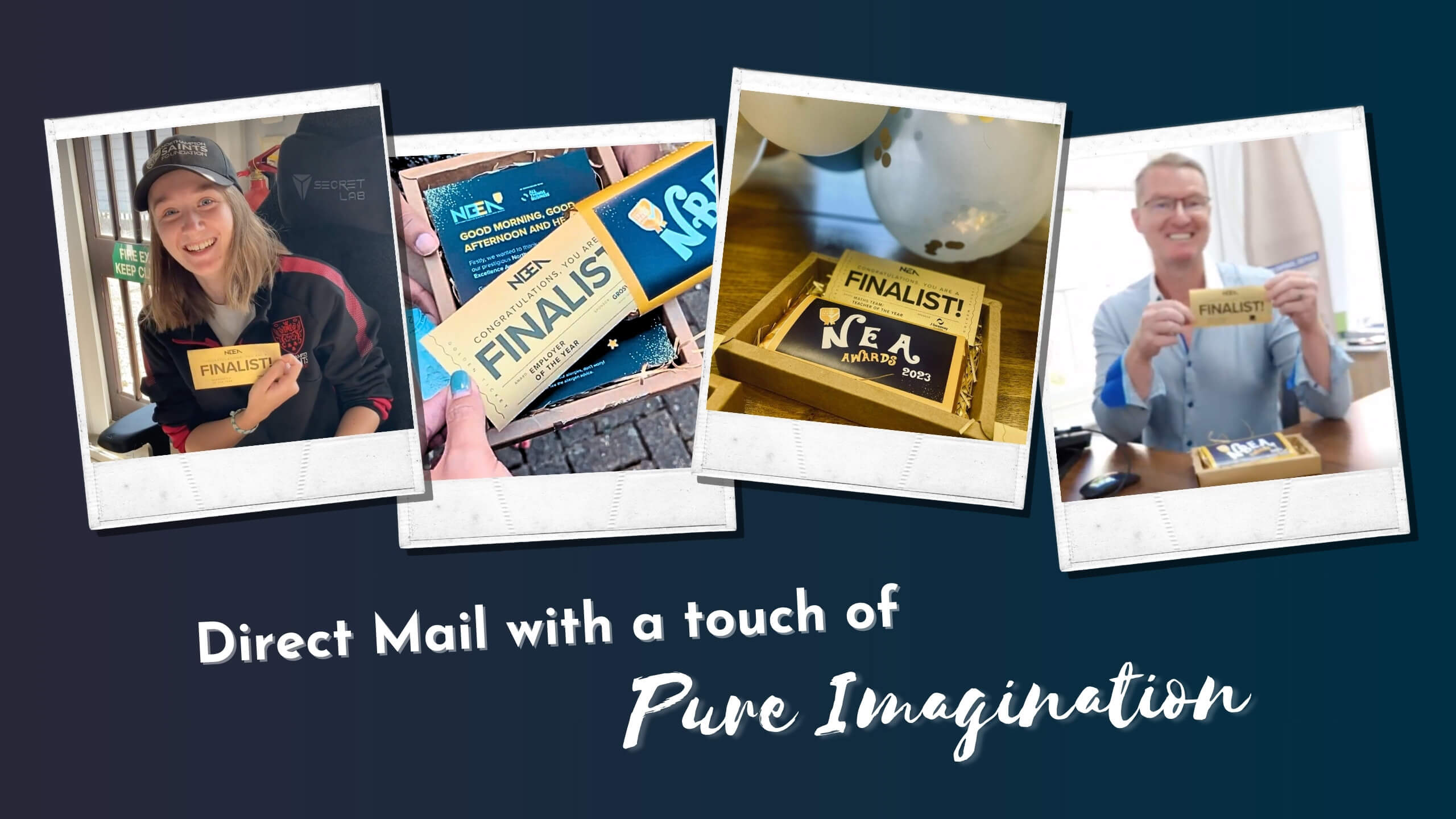 Direct Mail with Pure Imagination: Finalist Awards Announcement Success
Lucky members of the Northamptonshire business and education community were in for a treat this week thanks to the grand reveal of this year's finalists in both the Northamptonshire Business Excellence Awards and Northamptonshire Education Awards.
As Northamptonshire's premium awards evenings, with a rare and coveted Outstanding Awards Trustmark of validation, the acclaimed initiative celebrates incredible individuals and milestone moments. In revealing the fantastic finalists, the event needed a unique Direct Mail piece with 'wow factor' to both surprise this year's qualifiers and mark their astounding achievements.
Inspired by Willy Wonka
With thanks to GIANT's contribution, All Things Business' sister company, the golden ticket idea came from an inkling of inspiration from the wonderful world of Willy Wonka, creating hype and mystery through some peculiar parcels.
A surprise shock for the chocoholics, we set the bar high with chocolate fresh from the factory. Landing in their letterboxes across the county, finalists were elated at their prized package, containing not only a little slice of magic, but a special congratulations on being a finalist in their respective category.
Finalists subsequently swarmed to social media to share stories, photos and posts, showcasing their scrumptious success with the masses, united in incorporating the hashtags #NBEACompetition and #NEACompetition.
A Viral Moment for Northamptonshire
Through widespread word of mouth and fantastic finalist feedback, the creative campaign and delectable delights were a winning hit, seeing countless shares on social media, causing an extraordinary boost of ticket sales and a viral moment across Northamptonshire.
Now in their fifth year, the Awards are going from strength to strength with top comedian Rob Beckett presenting the business awards, and TV presenter Eamonn Holmes presenting the Education Awards.
Direct mail isn't to be underestimated, and with a personal touch of VIP treatment, proves to be a brilliant example of marketing that generates results. Especially to those deserving members of the business and education community who are continuing to put Northamptonshire's successes on the map.
For direct mail with a difference, recognised event production and even more inventive ideas, get in touch with GIANT on 01604 250 900 or email us at info@gogiant.co.uk.