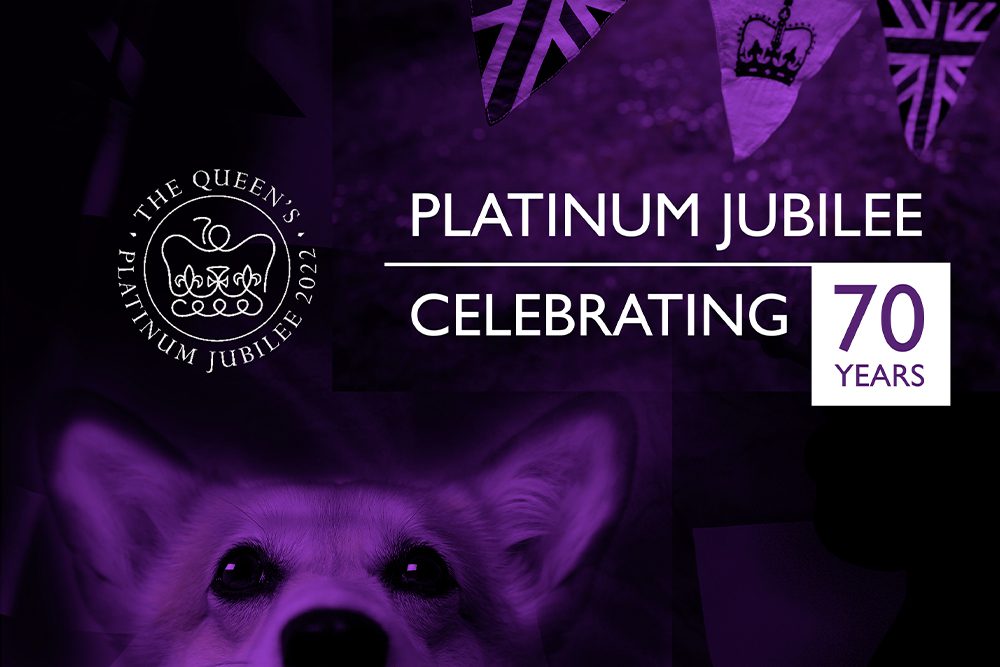 Joyous Jubilee – Perfecting Platinum Plans
It's Jubilee week! Her Majesty Queen Elizabeth has been on the throne for 70 years. Whether you're a royalist or just in it for the bank holidays, what better way to celebrate than with food collaborations, street parties and limited-edition branding!
Walkers Sensations Thai Sweet Chilli crisps has had an elegant packaging redesign in tribute to the monarch. The Queen herself opened the new London Underground line named after her royal highness. Even Morrison's marked the occasion with their humble yummy Clarence the Corgi cake. Taking pride in our own long service, GIANT takes a look at what's lined up for this week.
Fortnum & Mason's Great Jubilee Pudding
Fortnum & Mason launched a culinary competition to invite budding bakers to create a celebratory pudding for the Queen's Platinum Jubilee. Over 5,000 people entered with five finalists baking off in a BBC programme.
A twist on the classic trifle was crowned the winning pudding. The lemon posset served at the Queen's wedding to Prince Philip was winning baker Jemma Melvin's inspiration.
Personally, I wouldn't expect the majority of the British pudding loving public rushing to participate in recreating this decadent dessert.
With hundreds of street parties planned many celebrations will involve sunbathing (fingers crossed) ready to cook meals and finger sandwiches will help capture the true party spirit. Homemade Pimm's pitchers will be popular, as Waitrose reports their sales of the tipple is up by more than 260% from last year.
Fabulous Food Celebrations
Speaking of food, who doesn't love an M&S caterpillar cake? The food retailer has released a range of jubilee treats, alongside two iconic caterpillar cakes featuring a royal Connie and a new corgi design.
Senior brand manager for sauces at Kraft Heinz Co. Anke von Hanstein stated events like the jubilee "helps bring our brands top of mind and ultimately drive sales."
Heinz renamed two of their sauces. HP brown sauce has become HM, a nod to 'Her Majesty' and their Salad Cream renamed for a limited time as 'Salad Queen'.
It's expected the country will spend an estimated £823 million on food, drink and Union Jack inspired decorations. That's an average £83 per person according to MoneySupermarket.com.
Collecting Commemoratives
Of course, with any national celebration kitsch memorabilia is expected.
Aldi has avoided the controversy of their Cuthbert cake, opting to release their ever so cute Kevin the Carrot limited edition royal plush toys. The range includes two new characters created in homage of the Jubilee. Plus a carrot version of the Queen, topped with a bejewelled crown and a Prince Charles lookalike.
Asda's cult following for their garden gnomes is expected to garner a larger fanbase. Asda unveiled a monarch edition of the Queen in all her rosy cheek gnome glory.
The Times has promoted the daily release of limited edition print based collectables. A 20-page supplement, commemorative magazines, rare images and a giant pull-out poster are part of the publication's campaign. Russell Ramsey, executive creative director at The&Partnership and Pulse Creative added; "The challenge was to bring to life the coverage in a unique way in what will be a crowded market of jubilee activity".
Introducing a New Generation
With more audiences expected to be discussing the historic, momentous milestone, influencers are leading a new generation of royalists via social media. TikTok Royalists keep users informed on the latest Royal news and dispelling rumours. Including the Queen is now a CGI hologram and is no longer with us.
Donning tiaras, many of these influencers crowing achievements is demonstrated by their hundreds of thousands of followers.
At the time of the last jubilee, 10 years ago, platforms like TikTok didn't exist. Those that did were still in their infancy.
People are experiencing the jubilee in more ways than ever before via marketing campaigns, to social feeds on their mobile phones.
---
GIANT – your long-serving Northamptonshire-based marketing agency. Our services provide you with national and global reach as proud supporters of all businesses big and small.
Contact us today on 01604 250 900 to boost your marketing today.
Words: Kathleen Penfold