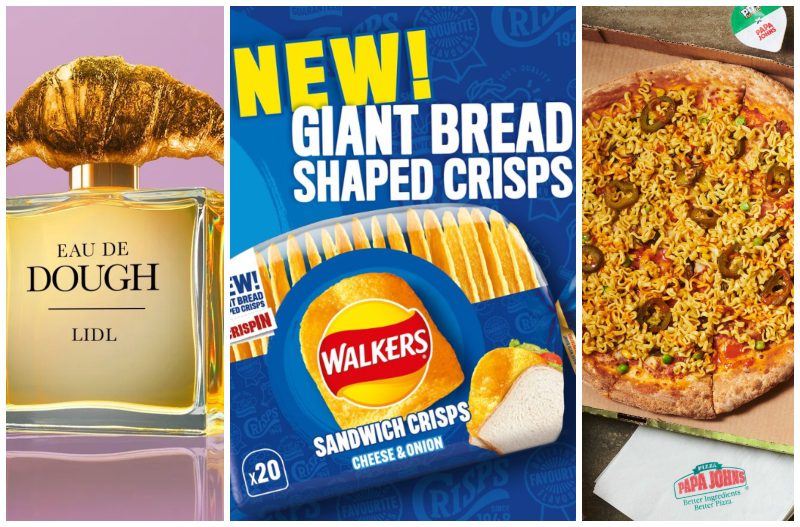 Wildly Weird to Fabulously Fantastical: Our April Fool's Highlights
April Fool's comes around every year and every time we fall for it! From Pot Noodle Pizza to Giant Sandwich crisps – we're picking out our favourite April Fool's pranks.
Even we have to admit, we were a little bit disappointed that some of these were in fact not real (but we can dream).
The collaboration of your dreams (or nightmares)
When it came to fooling foodie fanatics, Papa John's and Pot Noodle definitely wanted a 'pizza' the action with their Pot Pizza, reaky flavours including Bombay Badboy with Papa Johns American Hot.
The marketers behind the big brands used their noodle to create this intriguing April Fool's innovation (or hybrid of horror to some)! Not sure about you, but we dough-nno about this…
Excited to bring you OODLES of NOODLES with NEW Pot Pizzas. Yes, that's right! We've joined forces with @papajohnsuk to bring you three delicious noodle-topped pizzas. First up is our Bombay Badboy with Papa Johns American Hot. 🔥 🔥 🔥 #PotPizza pic.twitter.com/k0Vkub4psu

— Pot Noodle (@PotNoodle) April 1, 2022
Pastry perfume anyone?
Okay so we've all experienced it. That fresh fragrant waft as you walk into Lidl, flocking urgently to the bakery. If there's one thing that's synonymous with this supermarket favourite, it's the Lidl bakery.
Clearly, this clever brand knows its audience, unveiling its new fragrance 'Eau de Dough', "With notes of vanilla and undertones of flaky pastry, this sweet scent is almost good enough to eat…"
Walkers' Wonderful Sandwich Solution
Are you a #CrispIn or #CrispOut sort of person? Well, Walkers is re-opening the debate around the classic choice of whether to add that crispy crunch to your sandwiches or not. How you ask? Via a loaf's worth of giant sandwich-shaped crisps.
The giant bread-shaped crisps are the result of the brand claiming that the majority of the nation agreed crisps make our staple sarnies better.
Introducing our new Sandwich Crisps. The best thing since sliced bread #CrispIn pic.twitter.com/6fPQiiTqSf

— Walkers Crisps (@walkers_crisps) April 1, 2022
Thing is, they're not entirely wrong. Whether the April fool joke has worked in their 'flavour' or not, the prank has left crisp connoisseurs hungry for these to exist. Your move Walkers, we're waiting…
Formula 1: Fuelled by Coffee
As we're talking about the subject, we're throwing it back to one of our favourite April Fool's. In this blast from the past, Sahara Force India became the first Formula One™ Team to power its car by coffee.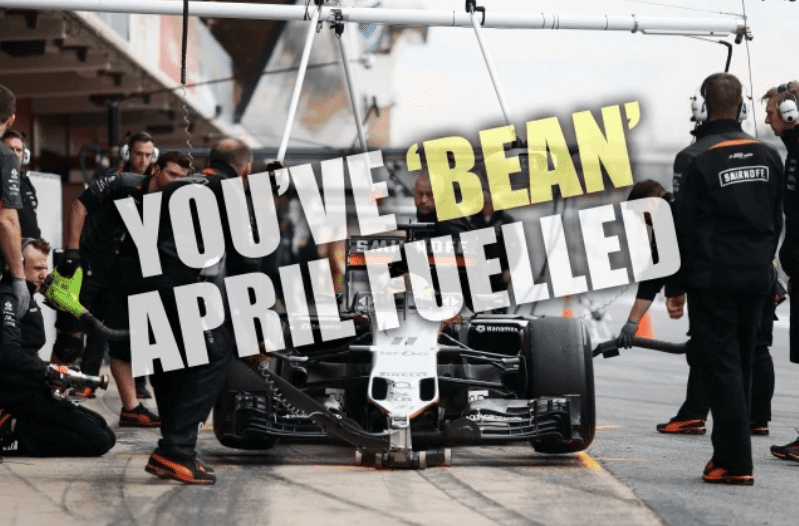 Caffeine's renowned for giving us that kick to get going, so why can't it supercharge racing cars too?
Are we full of beans? Absolutely. In this blast from the past, take a look at our April Fool flashback.
Words: Joe Hopkins